August 28, 2017
Posted by:

Kleopatra Arapi

Category:

Publications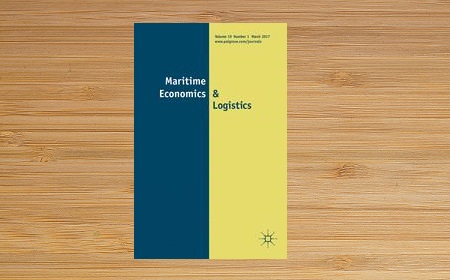 Maritime Economics & Logistics Volume 19 Issue 3 is now available online.
Important news
Call for Proposals – Palgrave Studies in Maritime Economics
Palgrave Macmillan welcome submissions to this new interdisciplinary series that seeks to improve our understanding of the role of the maritime sector within the global economy. For more information, please contact rachel.sangster@palgrave.com.
In this issue
Original Artcles
Cargo prioritization and terminal allocation problem for inland waterway disruptions
Jingjing Tong & Heather Nachtmann
» Abstract   » Full text HTML   » Full text PDF
An integrated terminal operating system for enhancing the efficiency of seaport terminal operators
Hokey Min, Seung-Bum Ahn, Hyang-Sook Lee & Heekeon Park
» Abstract   » Full text HTML   » Full text PDF
Enterprise Perspective-based Evaluation of Free Trade Port Areas in China
Xiaoxi Deng, Ying Wang & Gi-Tae Yeo
» Abstract   » Full text HTML   » Full text PDF
Optimizing berth allocation and storage space in direct transshipment operations at container terminals
Qingcheng Zeng, Yuanjun Feng & Zigen Chen
» Abstract   » Full text HTML   » Full text PDF
Benchmarking operational efficiency of port terminals using the OEE indicator
Marcos M O Pinto, David J K Goldberg & João S L Cardoso
» Abstract   » Full text HTML   » Full text PDF
Analysis of port authority efficiency using data envelopment analysis
Shaher Z Zahran, Jobair Bin Alam, Abdulrahem H Al-Zahrani, Yiannis Smirlis, Stratos Papadimitriou & Vangelis Tsioumas
» Abstract   » Full text HTML   » Full text PDF
Predicting tanker freight rates using parsimonious variables and a hybrid artificial neural network with an adaptive genetic algorithm
Payman Eslami, Kihyo Jung, Daewon Lee & Amir Tjolleng
» Abstract   » Full text HTML   » Full text PDF
Barriers to supply chain integration in the maritime logistics industry
Kum Fai Yuen & Vinh Thai
» Abstract   » Full text HTML   » Full text PDF
Applying intelligent methods in detecting maritime smuggling
Chih-Hao Wen, Ping-Yu Hsu & Ming-Shien Cheng
» Abstract   » Full text HTML   » Full text PDF