January 18, 2018
Posted by:

Kleopatra Arapi

Category:

Calls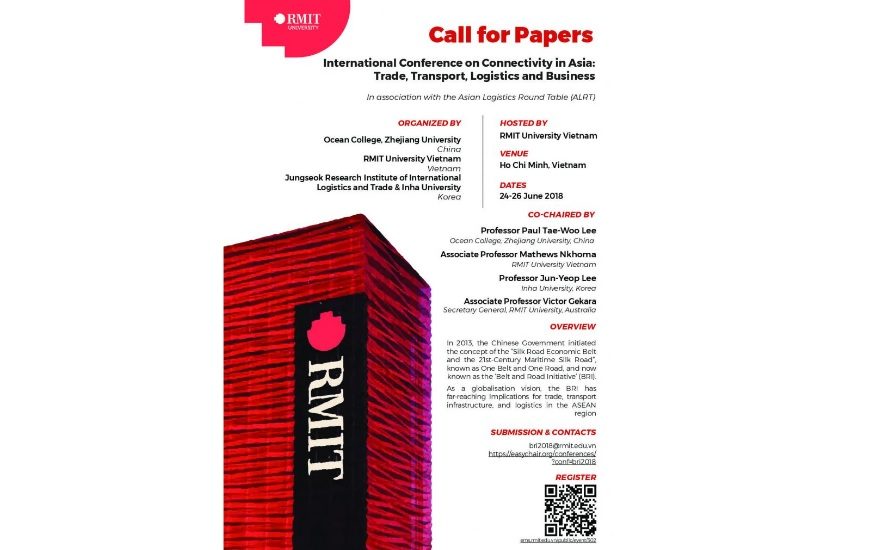 The International Conference on Connectivity in Asia: Trade, Transport, Logistics and Business 2018, is organised in association with the Asian Logistics Round Table (ALRT) and hosted by RMIT Vietnam in Ho Chi Minh City, Vietnam, on 24-26 June 2018.
Please find here the Call for Papers.
RMIT University Vietnam is pleased to host the 2018 BRI Conference: Connectivity in Asia: Trade, Transport, Logistics and Business. In 2013, the Chinese Government initiated the concept of the "Silk Road Economic Belt and the 21st-Century Maritime Silk Road", known as One Belt and One Road, and now known as the 'Belt and Road Initiative' (BRI). As a globalisation vision, the BRI has far-reaching implications for trade, transport infrastructure, and logistics in the ASEAN region.
Key Themes:
– Transport connectivity and trade corridors in the Belt and Road Initiative
– Trade and investment policy
– Impact of the Belt and Road on global supply chains
– Maritime transport and port development
– Infrastructure development and regional economic growth
– Trade relations and geopolitical alignments
– Transport technology policy and practice
– Global sourcing and production networks
– Employment and labour mobility
Extended Abstract Deadline is set on 28 Febuary 2018.