July 27, 2017
Posted by:

Kleopatra Arapi

Categories:

Calls, IAME News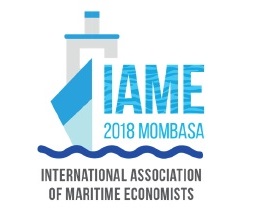 IAME2018 Mombasa, Kenya
18-21 September 2018
Call for Papers
The Event
IAME 2018 Conference will be held in Mombasa, Kenya, 18-21 September 2018.With the organisation of the 26th edition of IAME Conference in Mombasa, the Maritime Economists community, starting its 2nd quarter century, not only opens up for the African continent as a major vector of the future development of its subdiscipline within the broader field of transportation and logistics, but also towards the other areas of application that can now be considered an integral part of the maritime (or blue) economy.
Conference Theme
"Sustainable maritime, port and logistics industries in emerging economies: towards a path of Blue Growth"
The maritime economy is increasingly being rebranded or retooled towards the "Blue Economy" or "Blue Growth". Many regions and countries, both from the industrialised and emerging economies, have identified the "Blue Economy" as a future driver of sustainable growth across traditional sectors such as food (e.g. aquaculture), energy (e.g. offshore wind, wave energy) and tourism & leisure. The "Blue Economy" or "Blue Growth" obviously also and even foremost concerns the area of maritime shipping, trade and industry, to be considered a more 'traditional' area of research in the broader field of Maritime Economics.
However, moving towards a Blue Economy from a maritime economy puts forward a number of research challenges in terms of (1) the development of integrated strategies and the related multi-disciplinarity (2) co-habitation and resource use in the maritime space (3) the definitions of 'maritime economics' and 'blue economics' and (4) different applications of concepts such as, among others: hinterlands, forelands, stakeholders and impacts.
Key dates
Full review track
November 30th, 2017: Abstract Submission
February 28th, 2018: Full paper submission
Extended abstracts
February 28th, 2018: Extended abstracts submissions
NEW: Panel Symposia proposals*
February 28th, 2018: Panel Symposium submission
* Panel symposia are single-blind reviewed. The reviewers see the names of the presenters, participants, and organizers. Proposals for panel symposia are judged based on overall quality, interest to IAME members, relevance to the conference theme, innovation, and contribution. The aim of panel symposia is to develop new innovative research ideas around specific subthemes.
Further Information
IAME2018 Conference website (link)
IAME2018 Call for Papers (link)
IAME2018 Presentation (link)